"It is not the Somali people which failed; rather it is the Somali statesmen who failed their people". Yahya
By: Hiiraan Online Editorial
Abdulkadir Yahya Ali, better known as Yahya, one of the most prominent peace activists in Somalia, whose death on July 11, 2005 grieved the nation, was truly one of those rare patriots, literally a Somali to the bone. Proud of his heritage, people and nation, he tirelessly sought to better the lot of his countrymen and ultimately paid it with his life.
Yahya, the first born son of a school teacher, was born in 1957 at Mogadishu Martini Hospital. He attended Forta Sheikh Elementary School, then located on the south west corner of the new Parliament Building, in Hawl Wadag District.
After elementary, Yahya attended Afgoi Elementary school, a small town 30 km south of Mogadishu, where his father taught and where he would eventually make home until the end of his secondary school at Afgoi Agrarian High school.
Yahya, from early age on exhibited an unusual ability in making friends and always being in a crowd. He was an avid reader and also a talented painter in his middle school years. For the keen observer, it was evident then, even at that very young age that he possessed some exceptional qualities which set him aside from the ordinary. Yahya had an inexhaustible capacity for kindness, a beautiful outlook to life and embraced his fellow mankind as brothers irrespective of social status, blood lineage or other petty differences. He pursued life with vigor, energy and eagerly accepted everyone immune to man's malice or evil tendencies. With unconditional love, he conquered hate and turned foes into friends.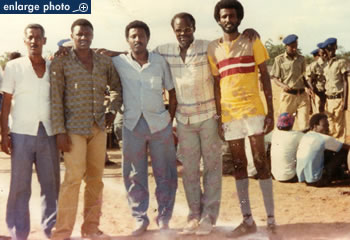 In 1978, after graduating from Afgoi agricultural high school, Yahya was sent to work at Jilib-Fanole agricultural project in Lower Jubba where he spent for the next 2 years between Fanole and the Mareray Jubba Sugar project. He later returned to Mogadishu to pursue his bachelor from the College of Agriculture near Lafole.
Yahya had his first child, Fakiha on August 1982 at Benadir Maternity Hospital in Mogadishu and left behind 9 children, the youngest, Khalid born in January, 2004.
Sometime in the mid 80s, Yahya started working with the US Embassy in Mogadishu, working his way up to become chief protocol officer for the embassy in charge of liaising between the Embassy and the Somali government.
In the last 15 years, Yahya dedicated his life to the relentless pursuit of peace and stability in Somalia. He crisscrossed the country, listening to the ordinary folk and searching for the root causes of the conflict. Seeking to promote contact and build trust among warring communities, he established the Center for Research and Dialogue (CRD), a forum of exchange and a house of reconciliation.
Never giving up the struggle for sanity or second- guessing the ability and resourcefulness of the Somali people to overcome their differences, Yahya incessantly, day and night, late into the wee hours of the morning, was always involved in some form of mediation, advancing harmonious relationship and the cessation of hostilities. He was a diligent shepherd of the Somali cause both on the international arena as well as in the local level, refusing to leave the country even under grave risks to his life.
The totality of his qualities and character as well as his sincerity in the pursuit of peace, brotherhood and the common good, untarnished by political ambition or personal interest, Yahya was able to win the trust of his people and become one of the most respected peace activist in the country.
Yahya's loss touched deeply many in the country as well as the international community. Following are some of the expressions of shock and sorrow felt:
"We shall remember Abdulkadir Yahya Ali as a courageous and selfless person, fully dedicated to the cause of peace, dialogue and reconciliation among Somalis and among human beings in general". International Institute for Democracy and Electoral Assistance (IDEA) Press Release
"The European Union joins others in condemning unequivocally the brutal murder, on the morning of 10 July, of the respected Somali peace and reconciliation activist, Abdulkadir Yahya Ali. This action deprived Somalia of a person who had worked ceaselessly to help bring stability and good government". Statement by the Presidency of EU
"Yahya was a committed advocate for peace and reconciliation. His optimism never faltered .This is a great loss to Mogadishu and Somalia at this particular time when people of his courage and tenacity are most needed." Maxwell Gaylard, UN Resident and Humanitarian Coordinator for Somalia.
"Mr. Yahya had devoted many years to foster peace and reconciliation in his country and was widely respected by his countrymen and by many in the international community." Mr. Kofi Annan, UN Secretary General
"My son did not die today, he is born today" . Yahya's Father on funeral day in reaction to the public's outpouring sympathies and well wishes.
In all respects, Somalia lost a dear son when it most needed his service. It is only befitting that we honor his work and continue his legacy so his dreams will be realized. May the Almighty Allah bless him and safe this beautiful country.
Hiiraan Online, while extending condolences to every Somali in general, but to Yahye's family in particular, recognizes him as the most valuable Somali person of the year 2005.